High Desert Heat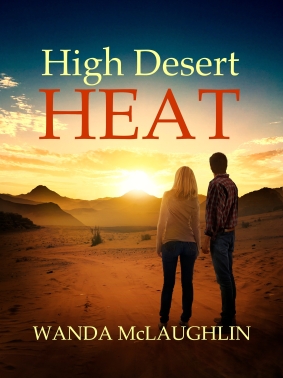 Published by Wanda J. McLaughlin
HIGH DESERT HEAT
Left penniless after her husband's untimely death, Geri Whittier was devastated to learn he'd led a secret life—shattering her illusion of their perfect marriage. After moving in with her daughter and family in their spacious North Scottsdale home, she spends the days searching for a job so she can begin her new life.
While walking in the neighborhood, Geri comes to the rescue of Reyna Mendoza, a pregnant teen. Reyna warns Geri to leave before her companion Chaco returns. But when the surly Chaco arrives and tells Geri to stay away from Reyna, she ignores his warning. On her way to meet Reyna the next day, Geri meets a neighbor, Art Coltrane, whose cowboy manners and rugged good looks make romance seem possible.
Geri's friendship with Reyna proves to be a bad idea, especially after Reyna's father, mysterious Arabian horse breeder, Luis Mendoza, threatens her. When Geri interferes with Mendoza's nefarious plans for his daughter and soon-to-be-born grandson, he orders Chaco to discourage her, with unforeseen consequences.
Soon, forces converge in the high desert as El Cortalo, drug lord and vicious killer, targets Geri and Art, while Reyna is forced to choose between her father and her child.
pb | 317 pages | $3.99 USD | 5" x 8" | 979-8-9869310-0-5 | November 18, 2022