Wanda J. McLaughlin
Benjamin Franklin wrote that only two things in life are certain: death and taxes. In November I experienced the first when my dear husband, life partner, and best friend passed away a year and a half after being diagnosed with a serious illness. The second certainty hasn't even crossed my mind. But the good news is that I'm back writing and updating my website after a three months of cold rainy weather here in Southern California. Today the sun shines and my optimism abounds!

Now, a quick update on what's been happening in my writing career. I'm two-thirds into the second of my cozy series set in the small town (fictional of course) of Pine Ridge, Arkansas featuring Darby Alexander and best friend Lurlene Culpepper. Titled Red Flag for Murder, the professional racing world loses one of its greatest upon his murder. And guess who finds the body lying beneath a 1952 Oldsmobile on opening day of Pine Ridge's latest attraction, a museum featuring memorabilia from racing along with vintage cars. Murder and mayhem follow Darby while her romance with handsome police chief Scott Tipton sizzles.

Fowl Play, the first book in the series, is now being edited and I expect to publish it next year. In the meantime, I've committed to writing at least one short story a month and will let you know when they're published.
PRIVATE CLIENTS
by Marsha Lupi is a mystery worth reading. Check it out on Amazon.com.

Recent college graduate Laura Barnett moves to New York City from finds her dream apartment, complete with doorman and a beautiful view. After enrolling at the Fashion Institute of Technology, she meets a new friend and begins a romance with her realtor. Life seems perfect. Until disturbing events happen that lead Laura to fear she and the other young women who live in the building are in danger. Can she trust those closest to her with her suspicions or will she become another victim?
***
MY BEAUTIFUL CAT, TESS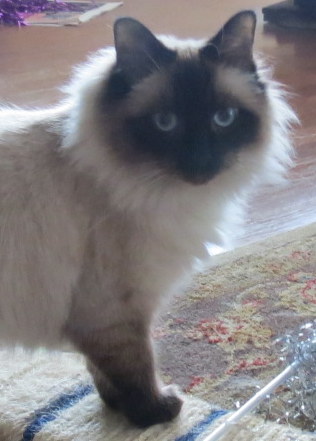 We adopted Tess in 2015 from Siames Rescue and feel so blessed to have her.
She was a little over a year old when we drove to Lake Hughes to pick her up and bring
her here to live with us. It's been a wonderful eight years. I recommend looking for a cat
from Siamese Rescue if you like the breed (or a variety) of these beautiful and loyal cats.
Go to siameserescue.org and check them out.